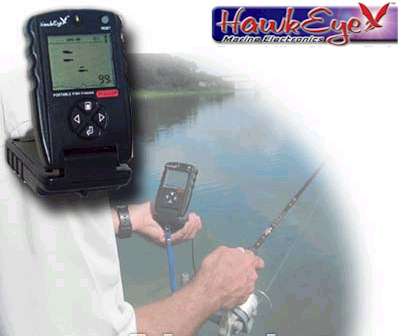 only
$99.99
With all of the Float Tubers out there, wouldn't it be nice if someone made a Fish Finder with us in mind? I know what you're thinking... "they already do". Sure they do, if you don't mind parting with $200.00 and then have something else dangling in the water. Hey, between my big flippers and a trolling motor - I give the fish a genuine obstacle course. If you've ever had a fish wrap a line around your flippers - you know that you don't need something else hanging in the water!
AND... wouldn't it be nice, if you decided to do a bit of shore fishing, that you could use that same Fish Finder? hmmm? Is this too much to ask for? NOPE!
The "HawkEye Portable Fish Finder" does all of this. You can use it in a Float Tube, a boat, from the shore, heck you can even use it from a bridge. It's small enough to store in your tackle box. You don't need to buy a special holder - it comes with a neck strap.
At half the price of other Float Tube Fish Finders, this is a real DEAL! Why kick all day - hoping to find a good fishing hole? Fish smart!
Quit guessing and start catching! Order yours today!
________________________________________
Allan Cole isn't just knocking on wood when he talks about the fishing plug he invented.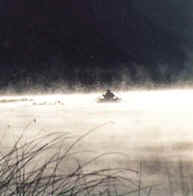 Don't put that float tube away for the winter - get ready for "Cold Weather Tubing"
HFTA welcomes Steve Summers
HFTA has had several offers for a TV spots. Steve will be in charge of the still and video photography for the association.
He's already informed me that we need to hit the water. I reminded him that it's winter, here in the mountains of California, but that didn't change his mind. He's just ordered a CADDIS Navigator II and as soon as it arrives - we're heading to a Lake, in search of 20-40# Stripped Bass.
Steve is a Disabled Veteran, who also lives by our Motto...
NO CHALLENGE TOO GREAT
Are we crazy? Going after one of these monsters in a Float Tube? Of course we are, but I know you'll enjoy the pictures! I'll enjoy the ride! Yee-Ha.....
Crappie Tactics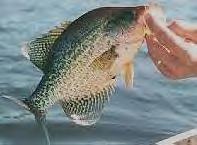 Crappie are, in my opinion, one of the most fun fish to catch and certainly one of the best tasting fish

Welcome
I want to welcome our newest members from New Zealand, Spain & Great Britain. Glad to have you aboard!
Don't forget to send me pictures of your catch!
Whether you have a physical challenge or not, join the Handicapped Float Tubers Association. It's one way to show your support for the disabled angler!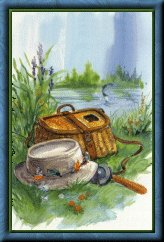 Fisherman's Prayer
I pray that I may live to fish.......
Until my dying day.
And when it comes to my last cast,
I then most humbly pray:
When in the Lord's great landing net
And peacefully asleep
That in His mercy I be judged
Big enough to keep.
OUCH !
What to do when you CATCH yourself!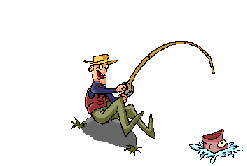 Pan Fish in Small Water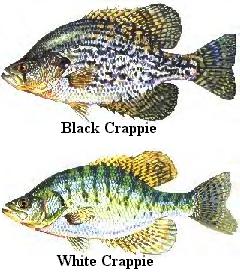 I've discovered a division of brutish and hearty pan fish that dwell in shallow places year round
This device ties knots that hold. Quality knots save lures, fish and time. Useful for anyone and a must for one-handed fishing. Aids fishermen in threading hooks, tying knots, and cutting line. The Ty-All comes with mounting bolt and wing nut, line cutter and threader, and instruction book which illustrates knot tying.
HFTA is still looking for Sponsors. We have a tournament coming up and could use product.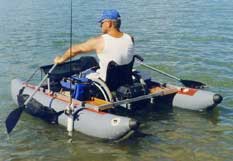 This is the "Wheelmaster", made by Dabbie Float Tubes.
Drift jigging in open water is a fishing technique being used by an ever increasing number of anglers as they discover its effectiveness and ease of application
More and more anglers today are switching to J-PlugsŪ because, as in the past, plugs are known to produce more and larger fish on a regular basis.
Great New Products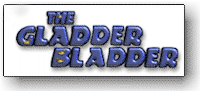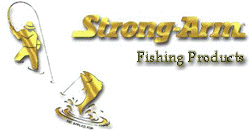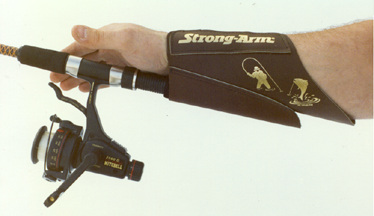 Van's E-Z Cast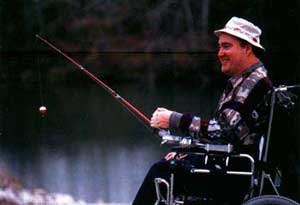 Strike Fighter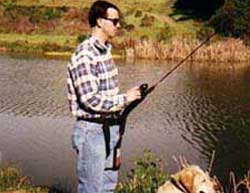 Writer's Needed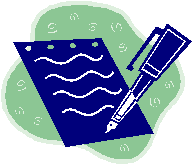 If you've taken the time to read any of my stuff, then you know I need all the help I can get! Plus, fishing season is starting up, so you know where I'll be...
Send your articles and pictures to me and I'll post them here for the rest of us to enjoy.
Send to: brent@hfta.org