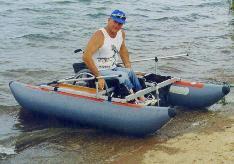 "Coming ashore and up the slipway without assistance"

"Ready to go fishing - Note the motor and anchor
to the front cross bar"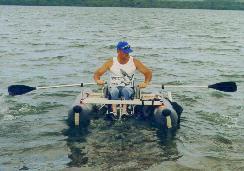 Please note the following pontoons used in these photo sequences are rough phototypes. Once we have the new ones with the internal safety bladders ready we will re-shoot and update these photographs.
" this photo clearly shows the seated height above
the water - just your feet will get wet"